Our Hometown Narrative: A History of Naples
We often focus on the future of Naples but it's nice to take a look back at where it all began. Southwest Florida is a newer area by the rest of the country's historical standard, but we have a rich past worth exploring, full of interesting characters who helped shape the area and state. The story of Naples is one of ingenuity and vision as it intersects with America's many railroad and highway projects.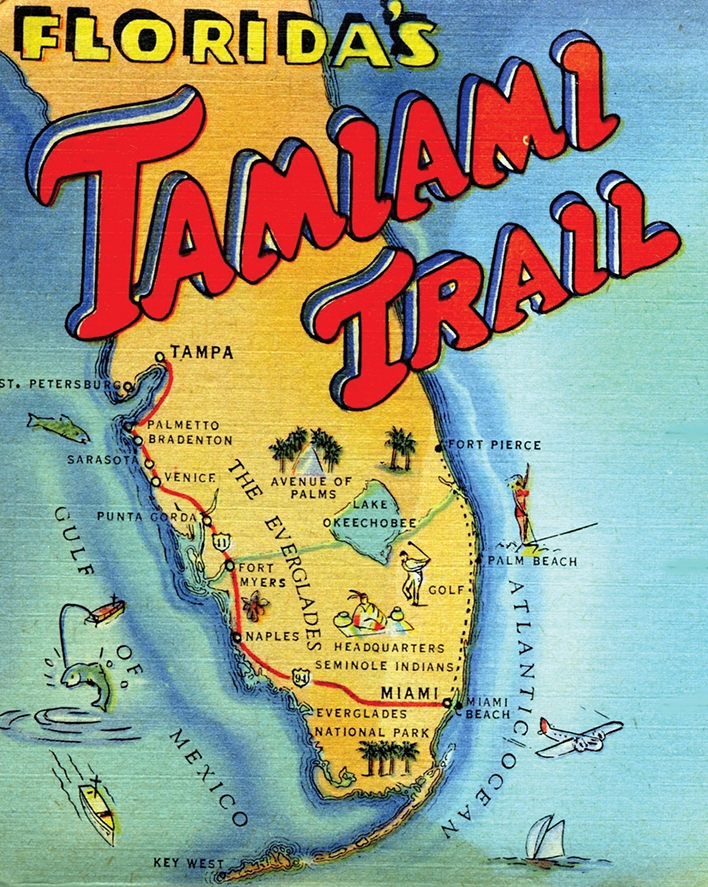 Naples began when Hamilton Disston acquired thousands of acres from the State of Florida as payment for a drainage project he developed for the Everglades. Part of the parcel he was given included the land that would become the City of Naples. Prior to Disston, early records show that Roger Gordon and Joe Wiggins used the area intermittently in the 1860s-70s. Although not much is know about their activities, historians believed they would have fished, hunted, and may have grown a variety of vegetables.
After acquiring the land, Disston's agent, Charles Adams, had the land south of Fort Myers surveyed in 1886. The survey suggested the land was good for truck gardening (raising vegetables for market) and tropical fruits, so Adams purchased 3,712 acres from Disston and then sold it to a group of Tallahassee businessmen who had recently founded the Naples Town Improvement Company. The future townsite was surveyed and lots were immediately offered to customers at the now astounding price of $10 each. By May of 1887, 252 lots had been sold.
In 1887, the Naples Town Improvement Company was reorganized under a group of prominent Kentucky businessmen led by Civil War general and U.S. Senator, John S. Williams. Along with newspaperman Walter N. Haldeman, they formed the Naples Company and launched an ambitious town-building program based on tourism and future rail and sea commerce.
By the summer of 1888, Naples consisted of a 600-foot pier, a general store, post office, hotel, and a seasonal population of about 80 people. A marketing campaign began in the 1870s and '80s, and magazines and newspapers ran stories about the area's mild climate, the large fish and game supplies, and compared it to the sunny Italian peninsula. The name "Naples" is thought to have originated with a Fort Myers land broker and surveyor. Like most Florida promoters of the day, he popularized area with exotic newspaper ads, describing the region as "surpassing the bay of Naples in grandeur of view and health-giving properties."
Despite a promising beginning, slowing land sales and mounting debts collapsed the Naples Company. For the next thirty years, Naples remained a private winter retreat for a few wealthy Kentucky and Ohio families. Years of isolation began to draw to a close in the late 1920s as roads and railroads made their way south through the Florida wilderness and finally reached Naples. Seaboard Air Line Railway's first passenger train, The Orange Blossom Special, pulled into Naples on January 7, 1927.
World War II introduced hundreds of servicemen to Naples when the U.S. Army Air Field was activated in December, 1943 to train pilots for combat. The airport was returned to the city and county after the war and was dedicated as the Naples America Airport in 1953.
Much of Naples' impressive growth and development happened after World War II. From a total of 390 in 1930, the city's year-round population more than tripled by 1950, setting the stage for the town we know and love today.
An Architectural History
As you walk around historic Naples you will see a variety of architectural styles. Naples even has two homes designed by architect Addison Mizner whose work is primarily seen in Palm Beach and Boca Raton. Active throughout the 1920s, his Spanish and Mediterranean Revival buildings gave the east coast of Florida its distinctive look. Naples is one of the only places along the west coast to have homes designed by Mizner.
The earliest buildings were simple frame cottages that fall into the category of vernacular architecture, a style based on local needs and the availability of construction materials. Construction relied on local materials and labor. Tabby, a type of concrete made by burning oyster shells to create lime, then mixing it with water, sand, ash and broken oyster shells, was a prominent building material. Oolitic limestone was quarried for chimneys and walls, and board and batten siding was common.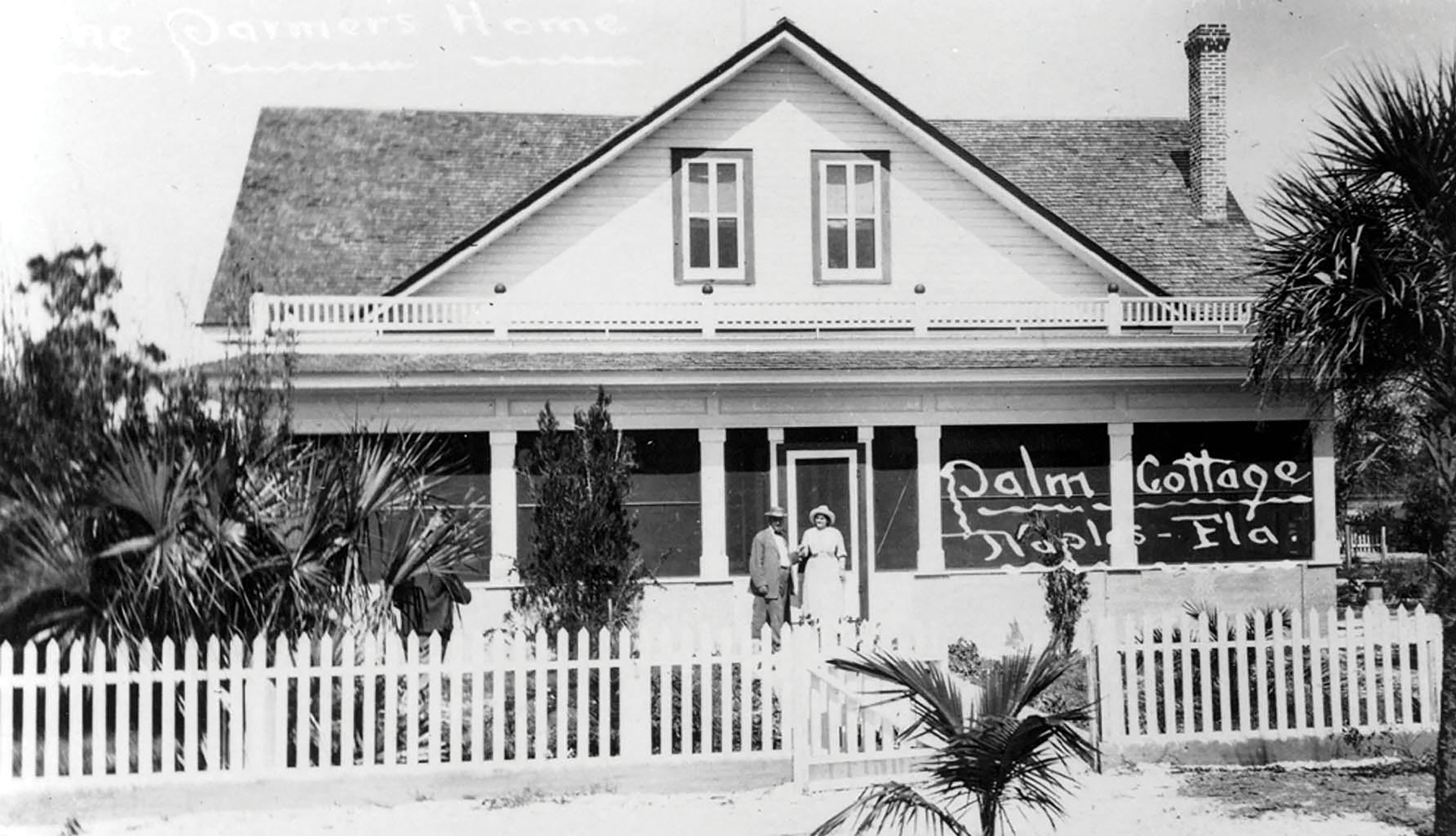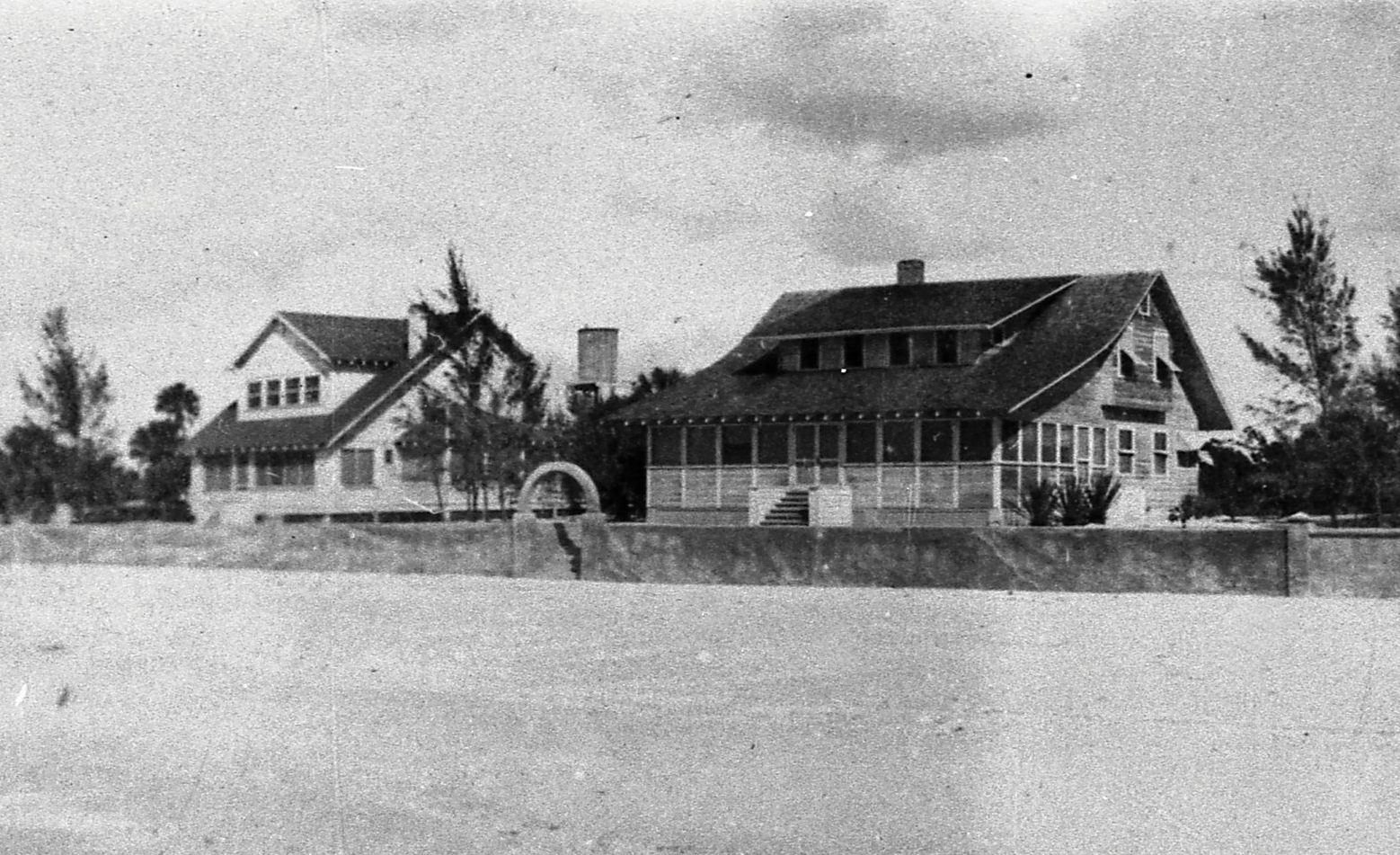 These early buildings were slightly influenced by Queen Anne and Stick style architecture. One of the best examples of this style was the Haldeman House, now located in Bonita Springs, which featured a single side plan with a steeply pitched roof, gables with turned spindlework, and verandas around the outside of the home for shade and cooling.
Other homes in the area were inspired by the Colonial Revival style that combined various aspects of Adams, Federal, and Georgian into a home that was popularized by mail order plans. In Naples, these homes were usually three bay, two story structures with wood siding.
The most popular home style in historic Naples is without a doubt the Bungalow. Bungalows were first built in India in the mid-nineteenth century by the British. Built low to the ground, large porches sheltered by wide overhanging eaves were the perfect way to deal with the country's hot, sunny climate. This style translated well to the warmer climate of southern California, and then became the dominant style in the United States between 1905 and 1930. The large shady porches of the Bungalow were perfect for Naples' hotter temperature and their smaller size made them an economical option that was easy to customize for families who predominantly used them as a winter retreat.